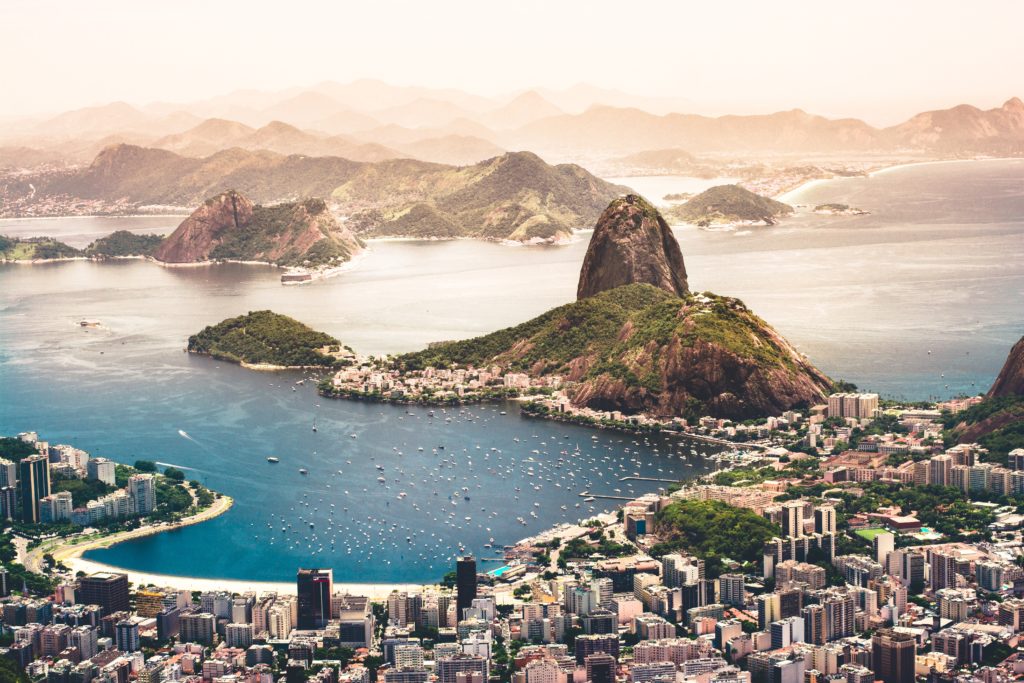 Rio de Janeiro, First Fully Compliant City in Compact of Mayors, Tackles Climate Change
As Part of the World's Largest Coalition of City Leaders Addressing Climate Change Rio de Janeiro Shows Cities' Commitment to an Ambitious Global Climate Solution
26 August 2015, Rio de Janeiro, Brazil – Today, C40 Chair and Rio de Janeiro Mayor Eduardo Paes announced his city's full compliance with the Compact of Mayors, a global coalition of city leaders dedicated to reducing their greenhouse gas (GHG) emissions, making urban communities more resilient to climate change and regularly reporting their progress publicly. Rio is the first city in the world to reach the Compact compliance milestone.
"I am proud that Rio de Janeiro is the first global city to become fully compliant with the Compact of Mayors, and I call on all cities to join this critical initiative on the Road to Paris and beyond," said Mayor Paes. "By complying with the Compact, we are advancing our work to make Rio a place with a better quality of life for its citizens and a healthier environment for its visitors. Cities are climate leaders, they are in the best position to effect real change. The actions we take at a local level will have a global impact and, by improving our city, we will be helping create a better world for today's urban citizens and generations to come."
Launched by UN Secretary-General Ban Ki-moon and his Special Envoy for Cities and Climate Change, Michael R. Bloomberg, the Compact of Mayors is gaining momentum in the run-up to the 2015 United Nations Climate Change Conference in Paris (COP21). Earlier this week, US President Barack Obama announced that 15 new US cities – including several C40 and ICLEI member cities – joined the Compact of Mayors, and set a goal of having 100 U.S. cities in the Compact in advance of COP21 at the end of November.
The Compact of Mayors is a common global platform for cities to register their current emissions; GHG reduction and adaptation targets; and action plans for implementing them. Compact of Mayors commitments are analogous to the Independent Nationally Determined Contributions being pledged by nation states. In this way, cities, local and subnational governments can show their strong support, and ability to act on, an ambitious global climate agenda. To date, more than 100 cities worldwide have committed to the Compact.
"Mayor Paes and Rio de Janeiro deserve great credit for acting quickly and decisively to meet all the requirements for compliance in the Compact of Mayors," said Bloomberg. "The Compact requirements bring more transparency and accountability to city efforts to confront climate change, and Rio's actions should encourage cities to accelerate their progress in the run-up to the UN climate change conference in December."
By complying with the Compact of Mayors, Mayor Paes reinforces his commitment to climate action by taking stock of greenhouse emissions and the current effects of climate change in Rio, creating an action plan including clear and ambitious reduction targets, and implementing a common system of measuring those emissions and monitoring climate risks. Rio has now established a local greenhouse gas (GHG) emission inventory using the Global Protocol for Community-scale GHG Emissions Inventory (GPC), the international "gold" standard for GHG emission reporting. It is the first Brazilian city to complete a study on climate vulnerabilities (of the metropolitan region). In 2011, Rio passed its Municipal Policy on Climate Change and Sustainable Development, which mandated regular updates to GHG emission inventories and sets an emission reduction target of 20 percent (2.3 million metric tons of emission reductions) by 2020. The city has a Climate Action Plan and is part of the Rockefeller 100 Resilient Cities initiative, in January launching Rio Resilient, a comprehensive diagnostic program to assess the current resilience scenario of the city.
"By being the first Compact Compliant city, Rio de Janeiro makes it clear to the world that cities are leading by example to solve the challenges of global warming," said Park Won Soon, Mayor of Seoul and President of ICLEI. "ICLEI Member cities will join in such action initiated by Rio in responding to climate change."
The Compact was activated under the leadership of the global city networks—C40 Cities Climate Leadership Group (C40), ICLEI – Local Governments for Sustainability (ICLEI) and the United Cities and Local Governments (UCLG)—and with support from UN-Habitat, the UN's lead agency on urban issues.
Rio de Janeiro's commitment to the Compact builds on years of efforts to combat climate change through its membership in the C40 Cities Climate Leadership Group and of ICLEI.
Visit test-gcmayors.pantheonsite.io to learn more about the Compact of Mayors.
About the Compact of Mayors
The Compact of Mayors is a global coalition of mayors and city officials pledging to reduce local greenhouse gas emissions, enhance resilience to climate change, and to track their progress transparently. The Compact was launched in September of 2014 by UN Secretary-General Ban Ki-moon and his Special Envoy for Cities and Climate Change, Michael R. Bloomberg. The Compact was activated under the leadership of the global city networks—C40 Cities Climate Leadership Group (C40), ICLEI – Local Governments for Sustainability (ICLEI) and the United Cities and Local Governments (UCLG)—and with support from UN-Habitat, the UN's lead agency on urban issues. In the lead-up to the 2015 United Nations Climate Change Conference in Paris, the unity and ambition among cities through the Compact of Mayors will inspire world leaders to follow suit and forge a global climate deal in Paris.
Contact: Lee Cochran, lee@bloomberg.org
About the C40 Cities Climate Leadership Group
The C40 Cities Climate Leadership Group, now in its 10th year, connects more than 75 of the world's greatest cities, representing 550+ million people and one quarter of the global economy. Created and led by cities, C40 is focused on tackling climate change and driving urban action that reduces greenhouse gas emissions and climate risks, while increasing the health, wellbeing and economic opportunities of urban citizens. The current chair of the C40 is Rio de Janeiro Mayor Eduardo Paes; three-term Mayor of New York City Michael R. Bloomberg serves as President of the Board. To learn more about the work of C40 and our cities, please visit www.c40.org, follow us on Twitter @c40cities and like us on Facebook at http://www.facebook.com/C40Cities.
Contact: Marie Scott Poulsen, media@c40.org
About ICLEI-Local Governments for Sustainability
ICLEI is a global association of over 1,000 cities, towns and metropolises in 86 countries with a mission to promote global sustainability through local action. ICLEI has around 300 urban development professionals working in 17 secretariats and offices, supporting cities and regions to become sustainable, low-carbon, resilient, biodiverse, resource-efficient and productive, ecomobile, smart and healthy and happy. More than 20% of the world's urban population benefit from ICLEI's work which is global in scope and impact, and yet very local in implementation. Visit www.iclei.org, follow us on Twitter @ICLEI and like us on Facebook https://www.facebook.com/ICLEIworld.
Contact: Katrina Borromeo, media@iclei.org or 004922897629916