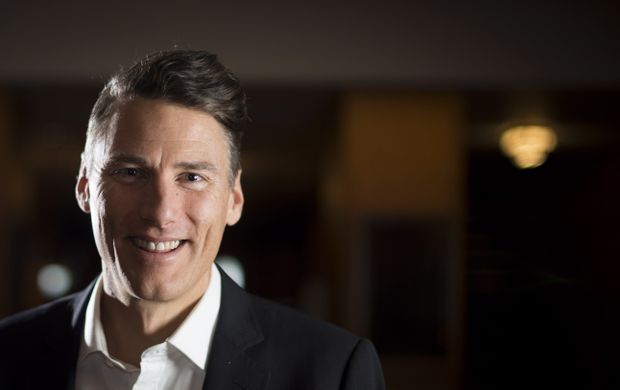 Global Covenant of Mayors Appoints Gregor Robertson as Global Ambassador
Global Covenant of Mayors Appoints Gregor Robertson as Global Ambassador
Former Vancouver Mayor Will Drive Global City Innovation and Investment Agenda in the Fight Against Climate Crisis
May 6, 2019––The Global Covenant of Mayors for Climate and Energy today announces that former Mayor of Vancouver Gregor Robertson has been appointed as Ambassador with a mandate to accelerate collaboration on research, innovation and investment between  the Global Covenant's 9,200+ signatory cities and partners including the United Nations, national governments, academia and the private sector.
A proven leader on urban climate action, Gregor Robertson demonstrated climate leadership throughout his mandate as Mayor of Vancouver, creating the city's Greenest City 2020 Action Plan, an award-winning environmental plan set out to make Vancouver a leader in sustainability and greenest city in the world. By tackling the issues of energy efficiency, waste reduction, clean water and air, and by mainstreaming local food and the green economy, Vancouver now has the smallest carbon footprint per person in North America.
As Global Ambassador, he will channel this experience and expertise, supporting engagement with national governments, spurring new investments in research and innovation, and working to build a new cross-sectoral vision to meet the climate challenge.
"As the former mayor of a city that sets the bar high for climate action, Gregor Robertson was a natural choice for this new leadership role. He is familiar with the complex challenges faced by mayors across the world that are fighting climate change on a city level, and even more familiar still with the pressing need for investment and innovation. With Gregor in this new role, we are confident that we can tackle this challenge with the speed and scale it requires." said Amanda Eichel, Executive Director of the Global Covenant.
Gregor Robertson said: "Vancouver has established that a city can grow and prosper economically and socially, while becoming a global green capital. As Ambassador for the Global Covenant of Mayors, I am keen to draw on that experience to help accelerate climate action in cities around the world."
About the Global Covenant of Mayors for Climate & Energy
GCoM is the largest global alliance for climate leadership, uniting a global coalition of over 9,200 cities and local governments. The cities and partners of the Global Covenant of Mayors for Climate & Energy share a long-term vision of supporting voluntary action to combat climate change and towards a resilient and low-emission society. GCoM serves cities and local governments by mobilizing and supporting ambitious, measurable, planned climate and energy action in their communities by working with city/regional networks, national governments and other partners to achieve our vision.Led by UN Secretary-General's Special Envoy for Climate Action, Michael R. Bloomberg, and European Commission Vice President, Maroš Šefčovič, the coalition comprises cities across 6 continents and 132 countries, representing over 800 million people or 10% of the global population.
***ENDS***
For more information contact:
Brett Kobie, Special Advisor for Communications, Global Covenant of Mayors for Climate & Energy
(bkobie@dev.gcom.anais.tech)
Jared Carneson, FleishmanHillard San Francisco (for Canadian media inquiries)
(jared.carneson@fleishman.com)
Photo Credit: Jonathan Hayward/The Canadian Press